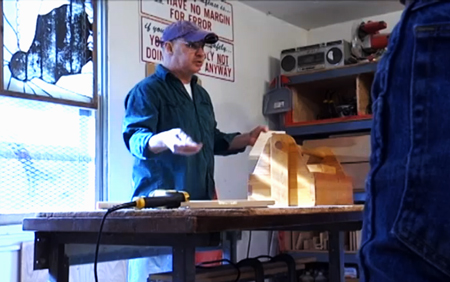 "I love the feel, the look, the smooth texture of wood – and the warmth it gives," says Neal Sher. "Like you're in a ski lodge in Wisconsin with Knotty Pine wood all around, you know? That's the warmth – the feel of the wood."
WoodSmyth's Chicago is your one-stop shop for everything woodworking. We deliver furniture in sizes to fit your space and designs to fit your style.
We believe in quality wood furniture at a fair price and we only take a deposit for the cost of materials. The most important things are ensuring that the customer is happy and that a beautiful piece of wood furniture is created.
If you can't find a piece you love from the product line, ask for a custom solution. Simply describe what you are looking for, or ask for a creative custom solution. You will get stunning furniture that illuminates space with the glow of natural wood.
Interested in pursuing woodworking or wood furniture as a hobby or career? Join our woodworking classes for woodworkers of all levels of experience. We offer a 'basic course' and a challenging 'continued' course each semester. The only things to bring are yourself, your safety glasses and a 'can-do' attitude.
Want new custom kitchen cabinets? Keep things easy, affordable and beautiful with our signature kitchen cabinet solution: glass cabinet doors. We cut down costs and turnaround time by fitting centered glass into your existing cabinet doors. Price start at just $80 per door, plus the cost of glass.