WoodSmyth's Chicago Facility Tour
Take a tour of the WoodSmyth's Chicago facility through the Google Places walk-through below. We encourage all potential students to familiarize themselves with the facility. Since this facility offers the ability to create an array of original wood furniture, this is the first step in your wood-working career. We love designing and building furniture and we back up our work with 100% customer satisfaction.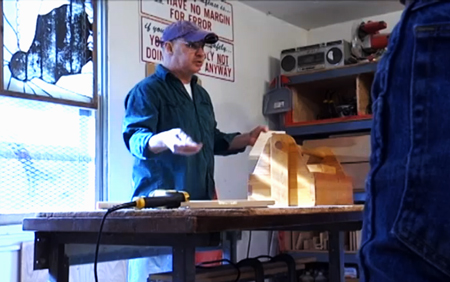 "I love the feel, the look, the smooth texture of wood – and the warmth it gives," says Neal Sher. "Like you're in a ski lodge in Wisconsin with Knotty Pine wood all around, you know? That's the warmth – the feel of the wood."
Neal Sher is the founder of WoodSmyth's Chicago. He started designing and creating his own line of furniture in 1992. With a goal to make affordable, high-quality furniture to fit any living space, he has since then delivered over 1,500 furniture pieces while providing excellent customer service and complete customer satisfaction.
Quality Custom Furniture
At WoodSmyth's Chicago, we believe in quality furniture at a fair price and we only take a deposit for the cost of materials. The most important thing is ensuring that the customer is happy with our woodwork and that a beautiful piece of wood furniture is created.
If you can't find a piece you love from the product line, ask for a custom solution. We deliver furniture in sizes to fit your space and designs to fit your style. Simply describe what you are looking for, or ask for a unique and creative custom solution. You will get stunning furniture pieces that illuminate the space around them with the glow of natural wood.
Find out what superior customer service and workmanship is like when you inquire about a product or a class today. Remember, WoodSmyth's Chicago is your one-stop shop for everything woodworking.